Welcome to your local community transport!
 EFCT services offered include:
• Individual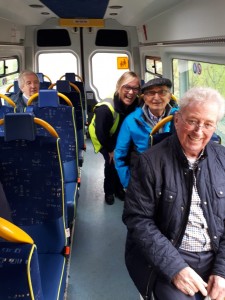 Bookings
• Group Bookings
• Voluntary/Community Groups
• Bus Routes 
• DaRT (Demand Responsive Transport)
Demand Responsive Transport (DaRT) is an alternative way of providing access to key services in rural areas.
DaRT services differ from bus services in that they are flexible and may divert on and off route to collect and drop off passengers within their operating area.
DaRT is NOT a taxi service,  there must be enough volume of passengers with similar itineraries in order to make the journeys viable. Passengers are asked to be flexible so bookings can be grouped together.
Most DaRT work is former bus routes and group bookings but unlike a large bus, DaRT only needs three or four passengers to make a group booking.  When not operating a timetable bus route or group booking, vehicles may be available for individual runs where no alternative transport is available.
DaRT operates between date and time depends on which service. Unlike a conventional bus, you need to first register as a customer. You need to book your seat on a journey at least 3 working days in advance of travel. Please telephone 01992 579556 to book.
Concessionary bus passes will be accepted (After 0900 Monday to Friday and all day Saturday).
To find out more about Epping Forest Community Transport, and how it can help you, or a loved one / family member be more mobile and independent, browse the website or contact us via our Contact Page.
Epping Forest Community Transport AGM for year December 2018-November 2019  held on 10th February 2021.
To view Epping Forest Community Transport Annual Report for year December 2018 – November 2019, please click on the link EFCT AGM REPORT 2020
To view Epping Forest Community Transport Annual Report and Financial Statements, please click on the link ANNUAL REPORT AND FINANCIAL STATEMENTS 30.11.2019