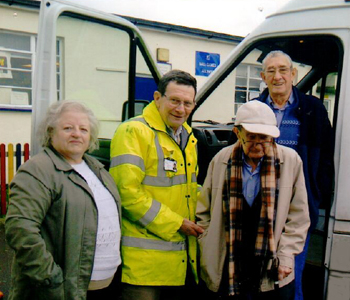 Epping Forest Community Transport operates a minibus brokerage for use by any non-profit making group within the Epping Forest District. Epping Forest Community Transport has a fleet of accessible minibuses, to transport passengers.
EFCT can provide paid drivers subject to availability or groups may provide their own drivers as long as they are MiDAS  trained, can produce a valid certificate and driving licence with D1 entitlement.
Vehicles will be available on a first come first served basis and must be booked at least five working days in advance.
Included in our fleet, are a number of wheelchair accessible minibuses, with various seating configurations, up to 14 seats.                                                                                              14 Seated passengers                                                                                                                            10 seated passengers + 1 wheelchair                                                                                                  8 seated passengers + 2 wheelchairs
All our minibuses are supplied in a clean and safe condition . All groups are responsible for leaving the minibus in the same clean, tidy condition.
All transport requests to be made by e-mail via efct@efcommunitytransport.org.uk
Telephone bookings for Group hire cannot be accepted.
** All bookings are subject to driver and vehicle availability.
Epping Forest / Harlow Community Transport will endeavour to provide your minibus transport needs, including suitable minibus with wheelchair access and do offer a volunteer driver subject to availability.
Community Transport services are not suitable for everybody, please be sure our service is the right service for your Groups' needs. At times, our users' expectations are above our capabilities. Community Transport is unable to provide escorts or Specialist Services.
For full details of our Group Terms & Conditions please download the EFCT & HCT Group Application Form using the highlighted link.